Concrete Coatings in Sarasota, FL, and Manatee County
Are your concrete floors or surfaces looking dirty, old, or worn? If so, you've come to the right place. DecoCrete Services offers top-notch concrete coatings in Sarasota and Manatee County. Our knowledgeable installers can apply specialized coatings to various concrete surfaces in and around your residential or commercial property.
As a family-owned and operated company, we go above and beyond to deliver exceptional customer service. Contact us today to revitalize your concrete surfaces with concrete coatings.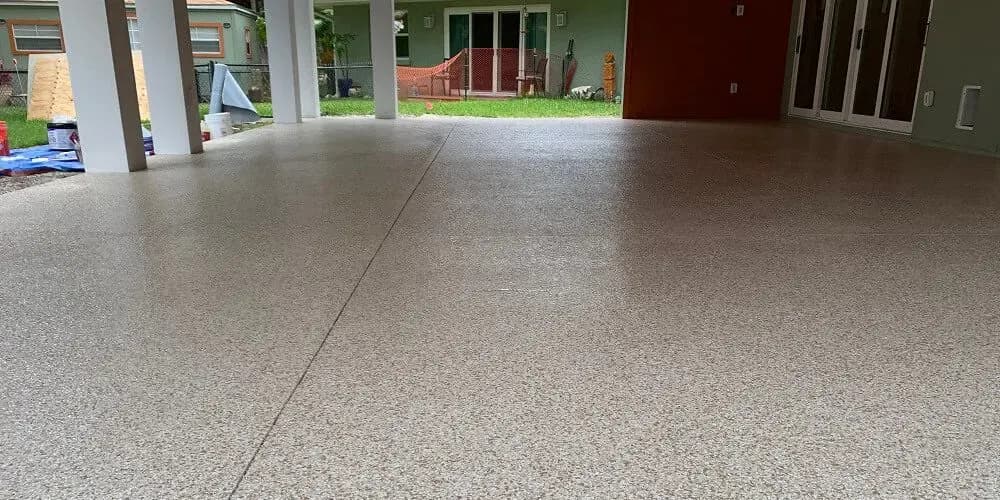 The Benefits of DecoCrete Concrete Coatings
Durable and Long-lasting
Professional concrete coatings offer extraordinary resilience. They can withstand all sorts of pressures and are stain-resistant. You can trust your concrete coating to stand the test of time.
Improves The Look of Your Concrete
A concrete floor coating can significantly enhance the appearance of your concrete. It allows you to modify your floor's appearance and ensures that it meets all your aesthetic preferences.
Slip-resistant and Anti Stain
Concrete coatings with anti-slip texture options and stain resistance provide maximum surface grip performance and protection against stains.
Can be Customized with Different Colors and Textures
Concrete coatings come in many styles and colors. You can create an attractive floor with various patterns and colors that reflect your vision.
Want to get your home or business surface coated for a good price? Call us today at
(941) 400-1755
to get a free surface coating quote!
Our 6-Steps Coating Installation Process
1. Grind Your Concrete
The first step involves either diamond grinding or shot blasting the surface. We attach our grinders to vacuum systems to remove dirt, dust, or gravel from the floor. This creates a smooth surface, ensuring that applying the coating is straightforward.
2. Repair any Damage
Once we've cleaned the floor, we'll use top-notch menders and fillers to fix any cracks in your floors. This helps the coating provide the seamless aesthetic customers desire.
3. Coat Concrete
Next, we apply a layer of durable polyurea basecoat to create a foundation for your new concrete coating.
4. Add Custom Flakes
Our team throws decorative concrete flakes evenly onto the surface by hand to create a beautifully textured style for your floor.
5. Scrape The Excess
Once the chip and base coat cure, we scrape and vacuum off the excess chips and ensure even coverage across the floor.
6. Top Coat
Finally, we apply the top coat that protects your floor from wear and tear and gives it a showroom floor finish.
Why Choose DecoCrete Services for Your Coating Project?
High-quality Products and Services
We install top-notch concrete coatings in Sarasota and Manatee County that work well for:
Lanai Porch Coatings

Warehouse Coatings

Showrooms Floor Coatings

Beauty Salon Coatings

Public Restroom Coatings
Locally Owned and Operated company
As a locally owned and operated company, we go above and beyond to provide quality products and services to our neighbors. You can trust our team to exceed your expectations.
100% Customer Satisfaction Guaranteed
Besides exceptional customer service, we stand behind our work with a 100% customer satisfaction guarantee. Our commitment is to provide you with nothing but the best service experience and nothing less.
Get a Concrete Coatings Estimate
Improve the durability and appearance of your concrete floors with the transformative power of a concrete coating. Call DecoCrete Services at (941) 400-1755 to request a free estimate for epoxy coatings in Sarasota and Manatee County.
Thomas Skillman
Sarasota, FL
Devin and the team at DecoCrete Sevices know their business, back their product and do really outstanding work. The technicians are skilled and conscientious. I have dealt with this company twice for porch flooring with the same great results. If I have another similar project I will use them again!
They were on time for the appointment they were very precise explained everything before they started and left me with a beautiful Garage Floor I would recommend them to everybody they were the best price out of nine companies And did a fantastic job