Providing the Best Concrete Patio Resurfacing Services in Sarasota, FL
Concrete patios are a great way to increase curb appeal, add value, and make your outdoor living space more functional. Concrete patio resurfacing is the perfect solution for all sorts of Sarasota residential and commercial concrete problems. We have a team of concrete patio experts to help you create the perfect patio space for your home! Call DecoCrete Services today! (941) 400-1755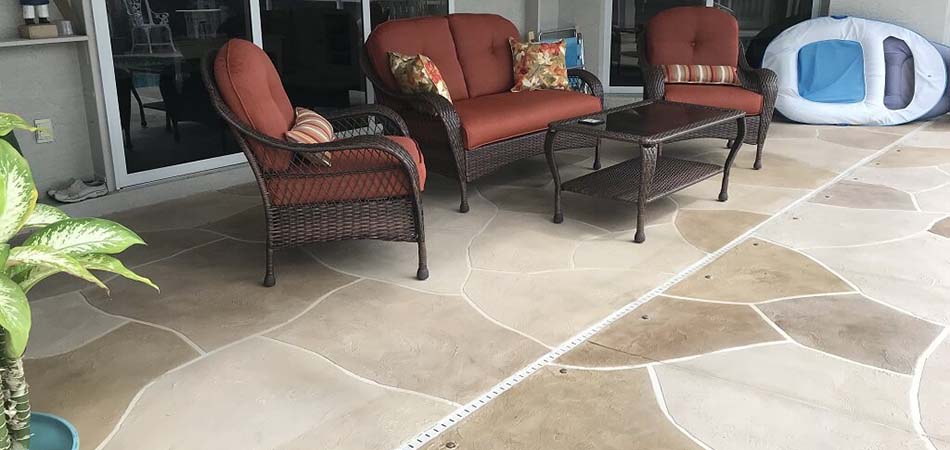 If you want to spruce up your concrete patio and create a beautiful outdoor living space, we have tons of options here at DecoCrete Services.
Our expert contractors provide services such as stamped concrete patios, stamped and colored concrete patios, and decorative concrete. These are only a few examples of what we can do to level up your concrete area!
We offer a variety of different designs, so you're sure to find something that suits your taste and matches the aesthetic of your home. We strive to create beautiful, high-performance, and functional concrete patio living spaces for our customers.
Stamped and Colored Concrete Patio to Increase Curb Appeal
We spend so much time decorating the insides of our homes — but what about the outside?
When you get DecoCrete Services to give your space the well-deserved makeover it needs, you will be increasing the curb appeal of your home with aesthetically pleasing stamped and colored concrete. You can pick subtle or statement details that make your patio something special.
Best of all, your concrete patio will be durable and stay beautiful for years to come!
Take your patio to the next level with our innovative decorative concrete services.
Call us today
for a free consultation.
Popular Patio Resurfacing Designs & Finishes
If you check out our gallery, you will find tons of different examples of the different patterns and designs we offer. Seeing some of the work we have done for past clients may help give you some inspiration for your new outdoor patio design.
From simple to intricate designs and patterns, we have got you covered! We offer acrylic textures, epoxy, flake designs, stained coatings, and stamped patterns.
Patio floor coatings are an easy, low-maintenance option to give your patio durability and style! We use a permanent three-coat system for our patio floor coatings.
We can change your bland-colored concrete into something that matches the style you're trying to achieve. We use acid staining, concrete dyeing, and tinted sealers to revamp your patios with a new look.
Concrete Patio Resurfacing
Concrete resurfacing is an amazing option if you have existing concrete that needs a new look. We will prep the concrete and apply an overlay. You have the option of choosing from a variety of different colors, patterns, and textures, so you're sure to find something you'll fall in love with!
If you have more questions or want to know more about DecoCrete Services concrete design options, check out some of these frequently asked questions!
Yes! If you have an existing concrete patio, you have tons of design options to change-up its look! We can use overlays, dyes and apply different patterns to have your outdoor living space looking fresh and new.
It is not necessary to replace your current concrete patio. We can create a decorative concrete patio with different options like concrete patio resurfacing
With DecoCrete Services, our contractors offer tons of different options for you to choose from to upgrade your decorative concrete patio. We can do concrete resurfacing with existing concrete. We also have dyes and overlays that we can apply too. Our different concrete coating options are also an excellent way to change up the scenery of your patio.
What we're trying to say is it's really up to you what you want to do to makeover your outdoor decorative concrete patio! We are happy to show you design examples and talk more about making your new outdoor living space dreams come true!
Thomas Skillman
Sarasota, FL
Devin and the team at DecoCrete Sevices know their business, back their product and do really outstanding work. The technicians are skilled and conscientious. I have dealt with this company twice for porch flooring with the same great results. If I have another similar project I will use them again!
They were on time for the appointment they were very precise explained everything before they started and left me with a beautiful Garage Floor I would recommend them to everybody they were the best price out of nine companies And did a fantastic job
Hire the Most Trusted Concrete Patio Contractors in Sarasota, FL.
At DecoCrete we are determined to give your new space the attention it deserves. We would love to hear from you and discuss your big plans and ideas for creating a fabulous outdoor living space today!