Top-Rated Decorative Concrete Services in Sarasota & Manatee County, FL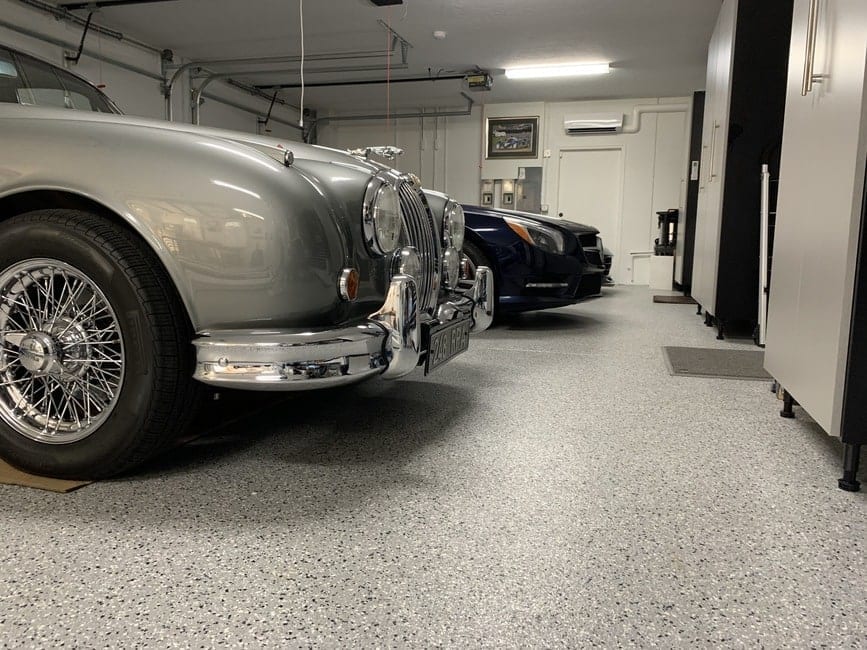 Considering beautifying your residential or commercial concrete floors with decorative concrete? Concrete is far cheaper and more durable than tile and other surfaces, but it can look boring, old, and worn out. In other words, its look and condition detract from the overall aesthetic of your space.
The good news is you aren't stuck with it. Today, you can make concrete look like anything and have it match or complement your existing decor with dyes, stamps, stains, polishes, etching, and more. We provide decorative concrete services throughout Sarasota County & Manatee County, FL, giving you durable, beautiful, decorative floors, patios, and more.
Reimagine Your Plain Concrete with a Range of Decorative Concrete Styles in Sarasota, FL
We can reinvent your entire space with our wide variety of decorative concrete services.
Concrete Resurfacing & Overlays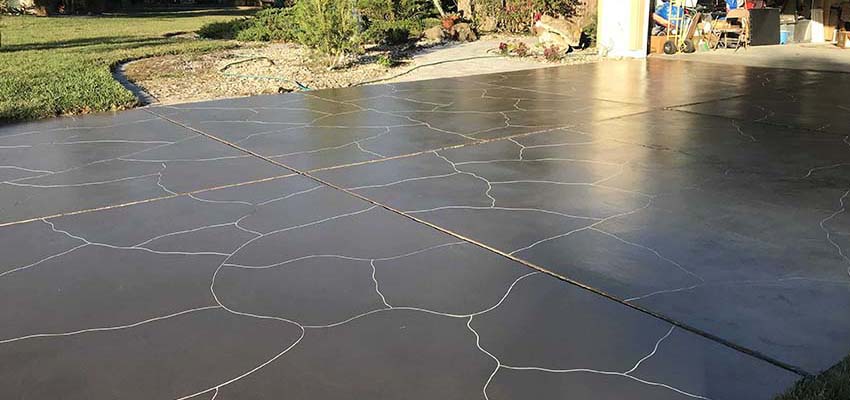 Maybe you can't rejuvenate your existing concrete surface, but you can get an overlay. Decorative concrete overlays involve laying down a new but thin layer of concrete and then dyeing it, stamping it, or otherwise turning it into something other than a plain concrete slab.
We can create overlays that look like stone, brick, travertine, flagstone, or other high-end, expensive materials. We can also give you a gravelly look or use stains and etchings to create a unique, custom look, all at just a fraction of the cost of replacing your concrete entirely with new concrete or other materials.
Concrete Coatings: Garage, Patios, Pool Decks, Driveways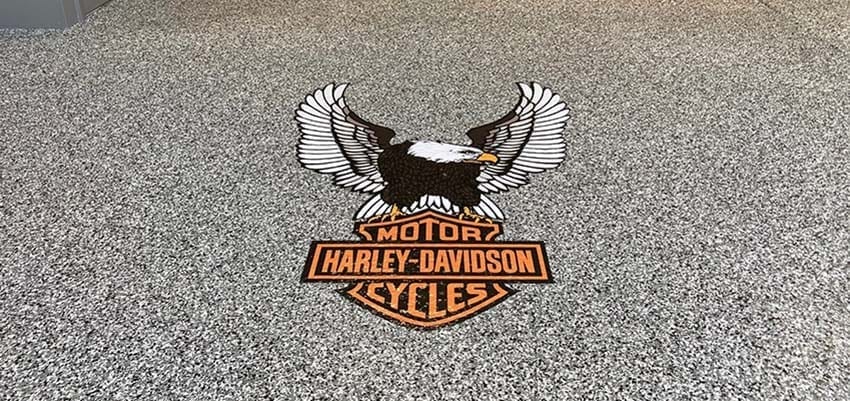 Garages, patios, and driveways all take a lot of abuse, to which concrete is uniquely suited. That is until it isn't. Spills and fluid stains, along with cracks, chips, discoloration due to time, and more, wear down your surfaces, and it just starts to look terrible.
We use a three-part polyurea polyaspartic coating to resurface these areas. It dries quickly, ensuring your space isn't out of commission for very long. An alternative to epoxy, polyurea polyaspartic is both stain and impact-resistant, making it excellent for the abuse driveways, garages, workshops, and more must take.
It doesn't peel, and it doesn't soften under hot car tires or from the heat radiating out from underneath the car. You can spill pretty much anything on it, including oil, transmission fluid, brake fluid, lubricants, and other things, and it won't stain.
Also, it's very easy to clean, so you won't spend hours scrubbing away anything you spill.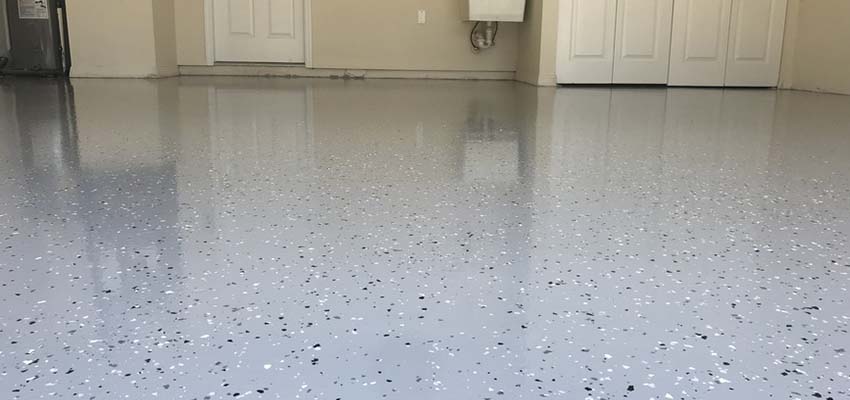 Our epoxy flooring is one of the cornerstones of our entire business. It's waterproof, impact-proof, and it comes in an amazing array of colors and color blends. It's a two-part material that creates a beautiful, hard surface that covers up your old concrete.
It's sensitive to temperatures, so it's most suitable for indoor applications like basement floors and workshops, although we do use it on garage floors as well. With all of the colors and patterns available with epoxy, we can create a unique surface over your existing concrete slab that's perfectly tailored to your tastes and personality.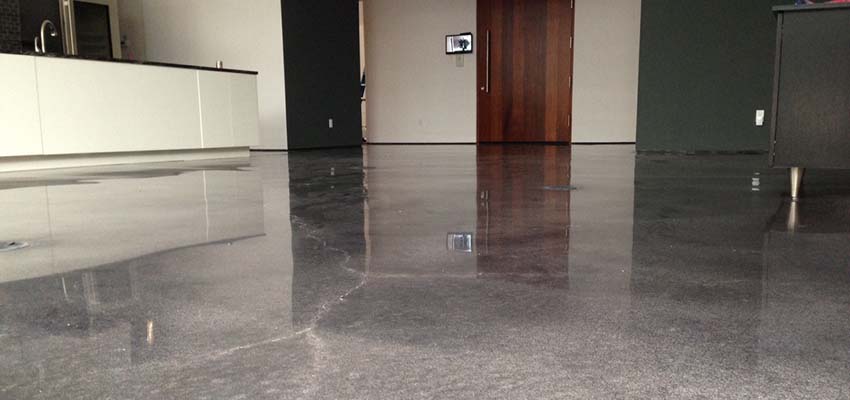 What if your floor already has the color you want and just requires some enhancement to take it up a level? Concrete polishing is not only popular right now but is also timeless. It doesn't become a dated look the way many other types of home and business decor do.
Polishing a concrete floor involves grinding it and smoothing it with pads very similar to sandpaper. We go from coarse to fine until the floor is glossy. The grinding process itself introduces eye-catching patterns, even around cracks, giving you a beautiful, modern, unique floor.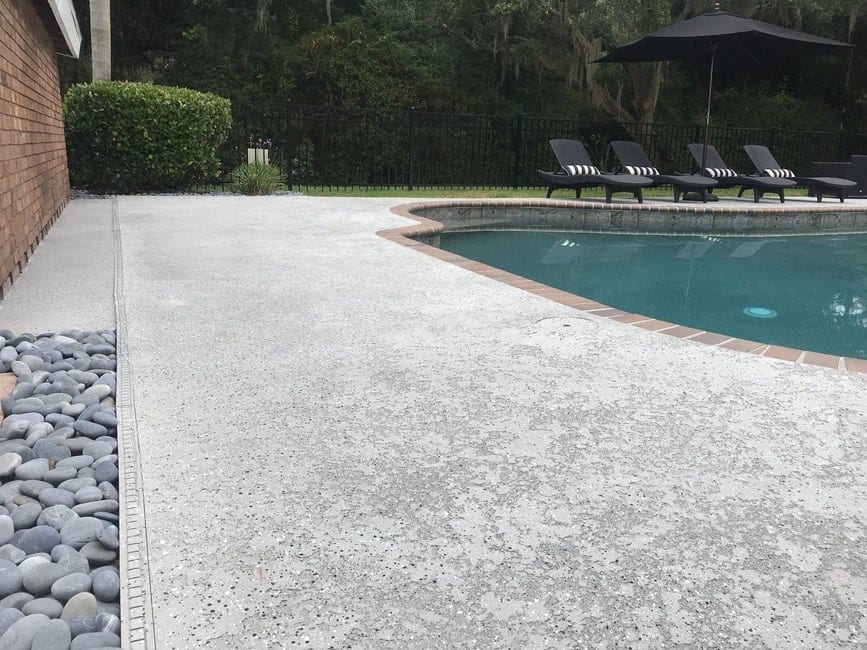 Acrylic works well for many outdoor surfaces like pool decks, and the texture adds traction as well as decoration. We can trowel, skim, or spray acrylic over your existing concrete in ways that will create different patterns, giving you a slip-resistant, cool-to-the-touch surface that will last a long time
Decorative Concrete Contractor FAQ
We're ready to answer the most common questions our customers have.
Decorative concrete is a concrete slab or floor that's been colored or dyed, patterned, polished, or overlaid, giving you a solid and durable surface that looks fantastic.
The best part about it is that it's still concrete, even if it's made to look like something else, including wood or delicate tile. It's also a single surface instead of hundreds of them (like brick and stone), so you don't have small, individual pieces shifting with the ground and creating potential hazards.
It's an inexpensive solution to what is often an expensive problem. When people need walkable surfaces, sure, plain, flat, gray concrete will do. However, it discolors, chips, and doesn't look nice for very long.
Decorative concrete, on the other hand, can withstand the same use as non-decorative concrete but livens the place up and doesn't lose its allure quickly.
Your best bet is to check out reviews, testimonials, and to see some of a contractor's previous work. See if the service you're thinking about has a gallery on their website that you can view, so you know what you can expect. Check out ours here as an example!
Hire the Best-Rated Decorative Concrete Contractors in Sarasota, FL
If you're looking for decorative concrete services in Sarasota, FL, we stand ready to help. We work hard to provide the highest quality service as efficiently as possible, passing our cost-savings onto you, the customer.
We've deliberately chosen to remain small so that we can focus more on you and your needs. We're well known across the Sarasota area for not just our skill but also our professionalism, willingness to communicate, and courteousness.
As one of the top-rated decorative concrete services in Sarasota, FL, we stand behind our work, and we'll work with you to address any problems and complaints you may have.
If you're considering getting decorative concrete installed in your home or business, give us a call!