Best Concrete Resurfacing & Overlays in Sarasota, FL
Do you have concrete that needs resurfacing?
Our concrete resurfacing services in Sarasota FL can repair the restore the outdated look of your driveway, patio, pool deck, or interior floor. We offer a variety of different techniques and decorative options to give you the best possible finish for your home or business. We can remove surface impurities like cracks, holes, and stains while covering them with a new coat of concrete. DecoCrete Services' team of experts will improve the overall durability of your concrete by making it stronger than before. Call us at (941) 400-1755 for a free estimate.
The pleasant warmth and tropical weather to Florida means a lot of outdoor activities and pool time all year long. Still, homeowners and business owners often run into the issue of their concrete driveways and pool decks looking subpar.
Years of hurricanes and sweltering heat can wear down your concrete, resulting in the need for concrete resurfacing services. This type of concrete refurbishing will let you renovate your concrete surfaces without needing to install a whole new deck, saving you time and a lot of money.
Keep reading to learn more about Concrete Resurfacing in Sarasota, FL.
Concrete Resurfacing Services for Durability, a Fresh Look & Added Value
Concrete resurfacing services can repair the surface of your driveway, patio, pool deck, interior floor, or any worn-down concrete surface. Options include concrete overlays, resurfacing, and coatings.
Resurfacing gives your concrete a fresh look while improving its overall durability by removing surface impurities like cracks, holes, and stains and covering them with a new coat.
Improving your concrete's appearance and function can increase your home's value, making it an attractive option if you plan on moving in the future. Even if you do not plan on moving or selling your home, it makes your home a more enjoyable place to be and more attractive for you and your guests.
Resurfacing costs a fraction of replacement, so it is an excellent choice if your concrete has surface defects yet is structurally sound.
At DecoCrete Services, we provide concrete resurfacing. This service transforms your concrete from a gray slab to something more dramatic and attractive. We apply a standard concrete overlay and resurface it to create the appearance and texture of another material.
Sample patterns include tile, wood planks, travertine, natural flagstone, and more.
Renew your old concrete with our overlays that can make it look like tile, wood, and many other custom materials. Let your creativity run wild and
call us today
for a free consultation!
Decorative Concrete Resurfacing and Overlays for Pools, Patios, Driveways, Garage Floors, & More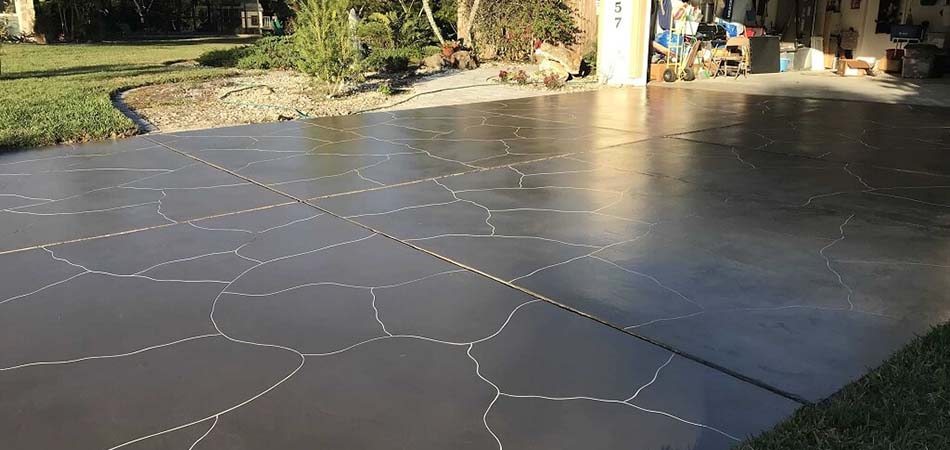 If your backyard has a pool with a worn-out deck, you may want to fix the appearance to create a more inviting environment. Pool deck resurfacing can add texture, pattern, and color to your backyard while also protecting the surface from water, wear and tear, and the elements.
Many Sarasota garages have concrete floors, and the frequent damage from cars, tools, and heavy machinery could scuff up the surface. Garage resurfacing can elevate the room's appearance while also making it a safer place to store your essential heavy goods.
Driveways and walkways often suffer a similar fate to garages, if not worse, due to their continual contact with cars which could affect their appearance. Investing in driveway resurfacing can improve your home's curb appeal, making it a more welcoming place for guests and encouraging you to spend more time outdoors. Furthermore, it enhances property value and durability.
Lastly, DecoCrete Services offers patio resurfacing to create a pleasant appearance. You can smooth out the surface, making it safer and more comfortable for children to play on while also making it more enjoyable to look at.
Overall, you can only benefit from investing in concrete resurfacing services in Sarasota, FL.
Why Sarasota & Manatee County Homeowners & Business Owners Choose DecoCrete Services for Concrete Resurfacing?
Sarasota and Manatee County homeowners trust DecoCrete Services because we are a hard-working small business that works locally. Our employees view concrete resurfacing as an art form, and we prioritize our customers. We have years of experience, and our previous clients love their results. The reviews speak for themselves!
We offer some of the most affordable quotes in the area. Our fast and clean one-day resurfacing services mean we can install the overlay and be gone within a few hours. Our team is punctual and passionate about their work. DecoCrete Services will serve any home or business in Sarasota and Manatee County, FL.
Concrete Resurfacing & Overlays FAQs
Here are some commonly asked questions concerning concrete resurfacing and overlays.
Thomas Skillman
Sarasota, FL
Devin and the team at DecoCrete Sevices know their business, back their product and do really outstanding work. The technicians are skilled and conscientious. I have dealt with this company twice for porch flooring with the same great results. If I have another similar project I will use them again!
They were on time for the appointment they were very precise explained everything before they started and left me with a beautiful Garage Floor I would recommend them to everybody they were the best price out of nine companies And did a fantastic job
Start Your Project Concrete Resurfacing and Concrete Overlays Today
If you have a concrete patio, pool deck, driveway, garage, or walkway, we can help you improve your concrete surface's longevity and appearance. DecoCrete Services has some of the most committed, timely, and hard-working employees in the concrete resurfacing and overlays field, and we can ensure you that we deliver on our promise. Call us today at
(941) 400-1755
or send an email to
sales@decocreteservices.com
for a free quote on your concrete resurfacing project.