Concrete Resurfacing & Overlay Contractor in Siesta Key, FL
Do you want to revamp how your concrete floors look? Do you want to make the floors of your driveway, garage floors, swimming pools, and patio look brand new? If you answered "yes" to any of these questions, you might consider investing in professional concrete resurfacing services. At DecoCrete Services LLC, we pride ourselves on being the best concrete resurfacer in Siesta Key, FL, as our services are second to none.
We understand how valuable your property is, which is why we're here to help by providing a wide variety of concrete resurfacing services. Through our concrete overlays, concrete pool resurfacing, and epoxy resurfacing services, we guarantee to transform any space on your property and make it feel and look new!
Renew The Beauty of Your Old Concrete in Siesta Key With Overlays & Resurfacing
Concrete is a durable material, but its exposure to harsh weather conditions and other elements outdoors can adversely affect its appearance. This is especially true for concrete in high-traffic areas, such as your concrete driveway, patio, concrete pool deck, and interior floors. 
For your concrete surfaces to look new, invest in concrete floor resurfacing services right away. Paying for this service is a worthy investment because it provides the following benefits:
Economical:

Contrary to popular belief, concrete floor resurfacing services aren't expensive. In fact, paying for this service is a better option because it doesn't cause concrete to crack or wear out. 

Customizable:

When you work with concrete resurfacing contractors for your concrete resurfacing needs, you'll have the opportunity to choose from different designs and colors. Do you want your concrete floors to mimic the appearance of marble or granite? Or, do you want them to have specific colors? Regardless of how you want your concrete floors to look, concrete resurfacing contractors can make it happen.

Resilient:

Concrete floor resurfacing services only use high-quality and durable materials. Investing in epoxy patio resurfacing services, for example, will not only improve the aesthetics of your patio but the materials used will also make your patio resistant to stains.
Renew your old concrete with our overlays that can make it look like tile, wood, and many other custom materials. Let your creativity run wild and
call us today
for a free consultation!
Decorative Concrete Resurfacing Ideas for Siesta Key Homeowners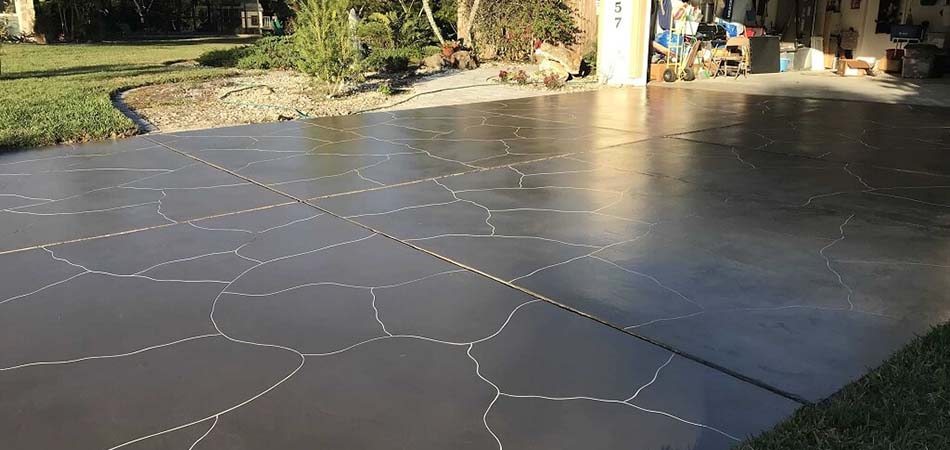 Concrete resurfacing offers a wide variety of colors, styles, and finishes, allowing you to choose one that perfectly suits your preferences. You can even pick a style and finish that is unique so your property can stand out from the rest in your neighborhood. 
Here are some of the most common coloring options for concrete resurfacing:
Colored stains

Dyes

Metallic pigments

Tinted sealers

Water-based or acid stains 
Other finishes you can choose from are:
Reflective Metallic Epoxy:

You can feature a unique pattern or logo with this finish. 

Integrally Colored Overlay:

The topmost layers of this overlay are integrally colored and then stained with a water-based coat to add dimension and richness.

Stained Concrete Microtopping:

This finish combines layers of dye and acid stain. You can also choose to use warm tones.
Concrete Resurfacing & Overlays FAQs
Concrete resurfacing can provide many benefits, yet most property owners are still hesitant to use this service. If you share the same sentiment, the information presented below might help. The more you know about concrete resurfacing, the easier it'll be for you to identify how cost-effective this service is. 
Thomas Skillman
Sarasota, FL
Devin and the team at DecoCrete Sevices know their business, back their product and do really outstanding work. The technicians are skilled and conscientious. I have dealt with this company twice for porch flooring with the same great results. If I have another similar project I will use them again!
They were on time for the appointment they were very precise explained everything before they started and left me with a beautiful Garage Floor I would recommend them to everybody they were the best price out of nine companies And did a fantastic job