Premium Pool Deck Coatings in Sarasota, FL
Swimming pools provide the ultimate entertainment spaces and can significantly impact your property's appeal. Your pool deck area requires proper maintenance to maintain its aesthetic appeal. Over time, your pool deck will change in color and appearance.
That's where pool deck coatings come in. DecoCrete Services offers pool deck coatings in Sarasota, FL, and its surrounding area. We serve residential and commercial clients so we can coat your pool deck regardless of its size in square feet. Contact us today.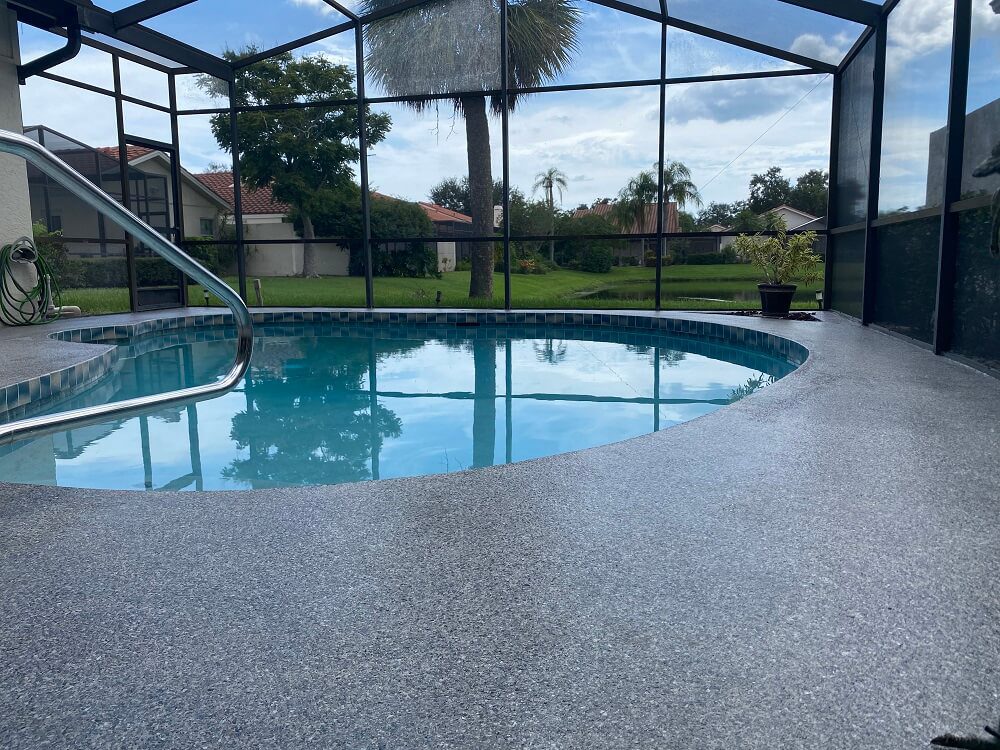 Personalize Your Pool Deck Coating
We have plenty of epoxy for pool deck options that allow us to install custom coatings that reflect your unique taste and style. Plus we can customize the colors for your pool deck. Trust our experienced installers to craft a custom finish for your pool deck design.
Our 6-Steps Pool Deck Coating Installation Process
Grind Your Pool Deck
First, we prepare the surface using diamond grinders or shot blasting equipment. All our grinders have vacuum systems to ensure a smooth surface ready for a fresh coating and free of dirt and debris.
Repair Any Damage
Next, we use high-quality menders and fillers to repair cracks and other imperfections in your deck. This smoothens the surface and makes the coating easy to apply.
Coat The Pool Deck
We apply the first coat of polyurethane to your pool deck to create a stable foundation for your new coating.
Add Custom Flakes
After applying the basecoat, we cast the flakes by hand according to your preference to create a custom design.
Scrape The Excess
Once the coatings cure, we scrape off the excess to create a smooth surface.
Seal Your Pool Deck
Finally, we apply a UV-stable, slip-resistant clear coat to give your deck a premium look and protect it from wear and tear.
Want to get your pool deck coated for a good price? Call us today at
(941) 400-1755
to get a free pool deck coating quote!
The Benefits of Coating Your Pool Deck
Our team resurfaces existing pool decks and concrete surfaces not only to boost their appearance but also to increase durability. Additional reasons to consider resurfacing your pool deck include:
It offers durability against uv rays

It provides a cost-efficient refresh

It's slip resistant
Why Sarasota Homeowners choose DecoCrete Services for Concrete Coatings?
DecoCrete Services installs stunning and reliable pool deck coatings for residential and commercial clients throughout Sarasota, FL, and surrounding areas. When you choose us for concrete coatings, you get:
A locally-owned and operated company

100% satisfaction guarantee

Highly experienced technicians

Proper tools and products
Get a Pool Deck Coatings Estimate
Keep your pool deck protected and beautiful with high-quality pool deck coatings by DecoCrete Services. Call us at (941) 400-1755 to request a free estimate.
Thomas Skillman
Sarasota, FL
Devin and the team at DecoCrete Sevices know their business, back their product and do really outstanding work. The technicians are skilled and conscientious. I have dealt with this company twice for porch flooring with the same great results. If I have another similar project I will use them again!
They were on time for the appointment they were very precise explained everything before they started and left me with a beautiful Garage Floor I would recommend them to everybody they were the best price out of nine companies And did a fantastic job