#1 Rated Concrete Contractor in Your Siesta Key, FL Area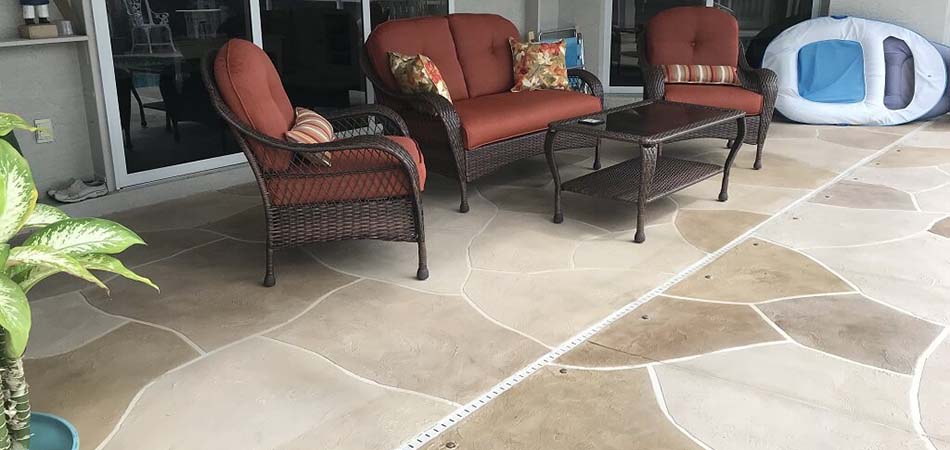 At DecoCrete Services LLC, we pride ourselves on delivering beautiful concrete patios. Our team will ensure that you get the results you want for your patio. A custom patio will improve the value of your home while creating the outdoor space you've always wanted.
When you need a fresh, new concrete patio for your Siesta Key home or business, we are the experts to call. We specialize in both commercial and residential projects with over 12 years of experience delivering high-quality work at affordable prices. Our company is proud to have installed many patios for many clients throughout Siesta Key.
Create a subtle or noticeable change with colored and stamped concrete patios. You have the option to use any of the many designs we offer, and we can work with all types of patterns. We handle resurface patio jobs, coating, and staining, getting you a low-maintenance patio that lasts a lifetime.
Upgrade Your Outdoor Oasis in Siesta Key With a Decorative Concrete Patio
A patio is one of the best places in your home to spend time while enjoying the warm Florida outdoors. You want materials that can withstand the elements while retaining beauty. You can choose from all our different materials and designs to create the space or update your existing one. Whether you're constructing a new building or remodeling an existing one, concrete is the ultimate choice in terms of durability and cost-effectiveness. Installing a wood patio will get damaged far quicker than a stamped concrete wood patio due to the warm and wet climate of Florida.
Take your patio to the next level with our innovative decorative concrete services. Call us today for a free consultation.
Decorative Concrete Patio Options for Siesta Key Properties
There are several patio resurfacing options you can choose from when enhancing a patio using concrete.  Let's take an in-depth look at some of the most popular resurfacing options.
Concrete coatings help sustain a patio's longevity, protecting it from deterioration and damage. Coatings also make it possible for you to maintain the concrete with ease. It resists stains and makes it easy to bring the patio back to pristine condition. Thanks to its slip resistance properties, it also creates a non-skid patio surface, reducing the chance of accidents in the area.
Stained concrete allows us to bring subtle color and accents to your patio. It is a fade-resistant decoration that will not peel away like paint, as it penetrates deeply into the concrete. Stains help bring more life and personality to your outdoor space. We offer both acid stains and water-based stains depending on your preference.
Concrete Patio Resurfacing
Patio deck resurfacing in Siesta Key, FL can help remove any minor damage to your patio. The best way to resurface a concrete patio is to do so with a patio that has minor wear. It's a more affordable option than replacing the entire space. When you resurface a concrete patio, it also restores the concrete's look and toughness. You can then apply other design elements to the concrete from stains to stamps.
Yes, it is possible to enhance the aesthetics of your concrete patio through different means. Painting is a popular choice, but it is also one of the quickest to fade. We recommend staining the concrete to make it look like a different material like tile. You can also do this to update or change the entire feel of your outdoor space.
You can also change your patio through the application of dyes and different patterns. We can place overlays to make it look different from before.
Stamped concrete is another popular choice to help concrete look and feel like other materials. You can stamp it so that it resembles wood, brick, flagstone, or slate. It works well for patios and other outdoor spaces like driveways, concrete slabs, and pool decks.
For worn concrete patios, then a resurface patio job will be enough. Resurfacing will help fix minor issues and leave room for upgrades.
With our help, we can transform your bland patio into something that improves your home's curb appeal. We can do concrete resurfacing to touch up and make room for other decorations. Staining is a popular choice for changing the look and feel of concrete. For those who want to transform concrete surfaces into another material, you can get our concrete stamping services in Bradenton, FL.
The choice is up to you. You have control over the material, design, and pattern. Contact us today if you're interested in changing your patio's design. We can walk you through the process and provide some examples.
Thomas Skillman
Sarasota, FL
Devin and the team at DecoCrete Sevices know their business, back their product and do really outstanding work. The technicians are skilled and conscientious. I have dealt with this company twice for porch flooring with the same great results. If I have another similar project I will use them again!
They were on time for the appointment they were very precise explained everything before they started and left me with a beautiful Garage Floor I would recommend them to everybody they were the best price out of nine companies And did a fantastic job