#1 Rated Pool Deck Resurfacing Contractor in Sarasota, FL
With a high-quality pool deck resurfacing service, you can extend the life of your Sarasota pool decks and enjoy its beauty for years to come. Let your pool deck become a safe place for you and your family. Our team of experts will make sure that your pool deck is protected and looks like new again. If you're looking for an affordable way to keep your pool deck resurfaced, then give DecoCrete Services a call today at (941) 400-1755.
DecoCrete Concrete Services is your one-stop-shop for the best concrete pool deck resurfacing installations in Sarasota & Manatee County, FL. Check out our Google reviews and join the list of satisfied homeowners who've used DecoCrete to resurface their pool decks. If you have a pool deck in need of resurfacing, a decorative concrete overlay or renovating, contact us today for a free consultation.
Your Guide to Sarasota Pool Resurfacing
DecoCrete Services is a locally owned and operated concrete contractor service. We specialize in concrete resurfacing and decoration services in the Sarasota area. At DecoCrete we take a great deal of pride in bringing you the best quality decorative concrete services available. Our contractors arrive on-site and renovate your pool to your exact specifications.
DecoCrete Services offers everything from resurfacing to overlays to stamping, and many more. With us, your concrete pool deck coatings can look like granite or marble and be polished to shine like glass. Our concrete deck resurfacing options include tiling, stamping, and texturing which makes your weathered old deck look as good as new.
Breathe new life into your plain old pool deck with our resurfacing services. Call
(941) 400-1755
to get a free consultation.
Why Have a Concrete Pool Deck Resurfacing in Sarasota?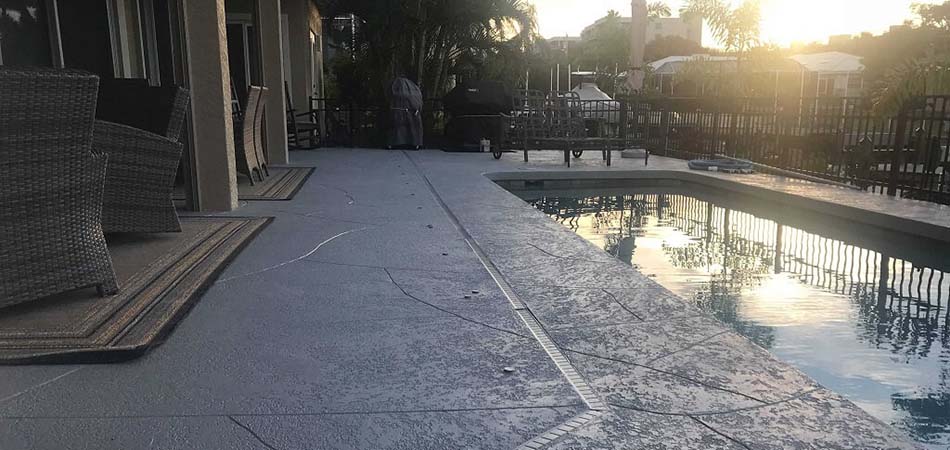 It is also worth exploring why concrete pool deck resurfacing is growing in popularity and why concrete decks are the right choice for many people in the first place. In many cases, concrete overlays for pool decks are cheaper than other renovations to your pool, and they often look just as good if not better. Pool deck coatings also work wonders for preventing water damage, which saves you money in the long run.
The next major reason is the sheer number of available pool deck resurfacing and pool deck overlay options available. You have the power to customize your pool deck into exactly what you want it to be. Your pool deck will have the right shine and texture and will be resistant to cracking from weather damage in the future. Pool deck customization also includes custom colors and designs upon request.
For those who already have a concrete deck, pool deck resurfacing is one of the cheapest ways to leave your deck looking better than new.
Refresh Your Outdated Pool with a Range of Pool Deck Resurfacing Options
DecoCrete offers a wide variety of colors and textures to choose from when resealing and revitalizing existing concrete pool decks. DecoCrete offers textured tile and block overlays that will perfectly fit the dimensions of your deck, as well as dyes for the concrete itself once it is resealed. DecoCrete also gives you the option of a range of different polishes to add a fresh shine to your concrete pool deck.
If your current concrete no longer suits your vision for your deck, or you are looking to revamp your current pool deck, DecoCrete overlays are a great option. Overlays include wood plank veneers, natural flagstone, and many other options. All of these options maintain the durability of concrete, but with the appearance of other more costly materials.
Most of the overlays offered by DecoCrete cost between $5 and $8 per square foot covered, meaning the cumulative cost for most pool decks will come out to a cost of under $200.
Deck ideas are often a matter of taste. A person interested in a more natural pool deck look might consider the flagstone overlays as well as a lining of actual flagstone around the edge of the pool itself to obscure the edges. If a more modern look suits you, maybe consider a white dye or marble overlay across the pool deck and the pool itself.
DecoCrete will happily fix any issues with your pool deck finishing for a small fee.
Thomas Skillman
Sarasota, FL
Devin and the team at DecoCrete Sevices know their business, back their product and do really outstanding work. The technicians are skilled and conscientious. I have dealt with this company twice for porch flooring with the same great results. If I have another similar project I will use them again!
They were on time for the appointment they were very precise explained everything before they started and left me with a beautiful Garage Floor I would recommend them to everybody they were the best price out of nine companies And did a fantastic job