Epoxy Flooring in Bradenton, FL
Looking for a high-quality company to install epoxy flooring in your commercial or industrial space? Let our team of experienced flooring contractors make it happen!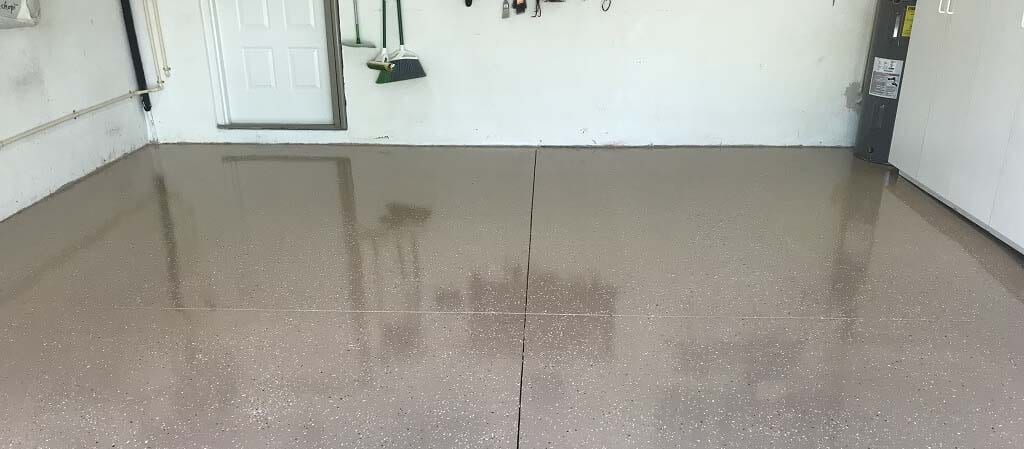 Epoxy flooring has truly gained popularity over the years for its durability and versatile use. Epoxy flooring is created using a mixture of resin and hardener to coat concrete floors. Epoxy is a pure synthetic material, able to mold itself into any form and shape desired. Plus, epoxy flooring comes in abundant design options to meet the desired outcome. Epoxy concrete floor is an ideal choice for high traffic areas, residential areas and commercial spaces.
Professional Epoxy Flooring for Bradenton Commercial Spaces
Concrete flooring is durable but can form cracks and crevices over time, giving it an unpleasant appearance. The damage makes it hard to walk on the surface and eventually calls for costly repairs or an entire floor replacement. At DecoCrete Services LLC, we strive to provide our customers with the best protective flooring solutions that won't break the bank.
Want to get epoxy floors on your garage, interior floors or business? Call us at (941) 405-3231 to get a free epoxy quote!
Get Industrial Strength Epoxy for High-Traffic Areas in Bradenton
Industrial flooring requires a higher grade of protective coating systems to withstand the load of daily traffic. The best type of epoxy flooring for an industrial space depends on the nature of the business. At DecoCrete Services LLC, we understand this concept very well.
For over 20 years, we have been supplying businesses with the perfect industrial floor epoxy solutions. With seamless epoxy and urethane systems, our epoxy installers set an industry standard when it comes to providing your business with quality floors.
Additives like sand and gravel give the epoxy flooring a skid-free texture, vital for places like restaurants, hospitals, and factories. This type of commercial epoxy floor coating is durable and very easy to maintain.
Our experts will provide your flooring with the protection it needs, keep mold and moisture out of sight, and ensure that you can enjoy its beauty for years to come. Antimicrobial epoxy flooring is the best option for food manufacturers, healthcare centers, and medical facilities. These places are prone to bacterial growth and need frequent cleaning. Antimicrobial epoxy coating is quick-drying and forms a shield on the floor with protective agents to form a non-porous surface that prevents the formation of mildew and bacteria.
We encourage our clients to be creative with their decorating coating choice. Adding the company logo, images, or other related elements creates a good impression. Also, the epoxy coating protects and keeps the decorative elements as good as new for years.
Thermal Shock-Resistant Coating
For large facilities, such as food and beverage industries or places with heavy equipment and extreme temperatures, thermal shock-resistant epoxy coating is the safest option. It prevents the floor from cracking and breaking and can repel wear and tear for a long time.
Best Advantages of Epoxy Floor Coatings
The application of epoxy flooring systems has both practical and visual benefits for your commercial floors. Keep your floors looking their best year-round and enjoy minimal maintenance requirements with our epoxy floor services.
Apart from having a long lifespan, epoxy flooring outlasts wood and tile finishes. The combination of resin and hardener easily bonds to concrete flooring creating a protective layer that saves it from cracks, stains, high impact, weight, and harsh climate. Plus, epoxy flooring is low maintenance.
The light-reflecting finish of epoxy flooring enhances visibility where light is often low such as garages and warehouses. The anti-skid feature ensures no falls or injuries occur. Epoxy also becomes non-toxic after it's cured and does not release harmful fumes into the air.
The epoxy layer is sealed with a component that is resistant to dust, moisture, chemicals, and dirt. Since epoxy flooring is a smooth, flat surface, all it takes to clean stains and spills is a quick wipe.
We offer epoxy flooring in a wide choice of colors and customizable options. It's an affordable way to transform your business space. Whether it's a solid color or flake flooring, epoxy comes in various finishes to pair with the ambiance and beautify the overall look of the space.
Easy and Customizable Epoxy Flooring Options
Although we carry a wide range of epoxy flooring options, we suggest the following top finishes for your epoxy concrete floors:
Solid Epoxy Floor Coating
For those who like to keep things simple, our custom epoxy coating is the best option. It offers the same strength and durability as epoxy minus any fancy additions. Our epoxy floor coatings are scratch-resistant, easy to clean and maintain, perfect for any room in the house. The standard finish is also ideal for garage epoxy flooring.
The epoxy floor installation process is quick and easy, and all our flooring contractors need are the dimensions and choice of color.
Our epoxy flake coating is an upgraded version of the regular coating, ensuring more durability and longevity. The process begins with a special mix of epoxy resin and hardener spread across the concrete floor and topped with colored epoxy flakes of irregular shapes to create stunning designs and patterns.

The biggest advantage of flake epoxy floors is that it masks imperfections and damage caused to the concrete floor and gives the dull, unattractive surface a more smooth and polished look.

With passing time, garage floors become discolored, form chips, cracks filled with debris and tire dirt, and even catch on oil stains. Flake coating is also suitable for garage floor epoxy because it is stain resistant and easy to maintain.
Metallic epoxy floor coating consists of traditional epoxy coating mixed with metallic pigments to produce a brilliant shiny surface without actual metallic plates. We offer a choice between a pearlescent or iridescent finish that will give your home or office flooring a glass-like shine.

Not only is our metallic epoxy flooring slip-resistant, but it can easily withstand wear and tear, harsh chemicals, and abrasions. Also, it prevents mold, fungus, and bacterial growth. This is an added bonus to these already beautiful floors.

The array of color choices and patterns that come in metallic epoxy flooring make it a wise choice for residential and commercial spaces. Our team of professionals will customize the design as per the client's liking, whether it's warm tones like orange and brown or eye-catching red and blue hues.
Thomas Skillman
Sarasota, FL
Devin and the team at DecoCrete Sevices know their business, back their product and do really outstanding work. The technicians are skilled and conscientious. I have dealt with this company twice for porch flooring with the same great results. If I have another similar project I will use them again!
They were on time for the appointment they were very precise explained everything before they started and left me with a beautiful Garage Floor I would recommend them to everybody they were the best price out of nine companies And did a fantastic job
At DecoCrete Services LLC, we take the pledge to deliver what is promised and not miss even a tiny detail in our work. If you need epoxy flooring or custom-made floor coating for your commercial spaces, we've got you covered. Call us today for a free consultation.