Decorative Concrete Pool Deck Professionals in Lakewood Ranch, FL
Want to give your aging pool deck a complete makeover to make it look brand new again? Let us do the work for you! At DecoCrete Services LLC, we offer the best-rated decorative concrete solutions throughout Lakewood Ranch, FL. 
We are committed to providing high-quality concrete services for every customer. DecoCrete Services LLC specializes in pool and deck resurfacing, concrete coatings, stamp concrete, overlays, staining concrete, and more. 
Our applications can serve many purposes, be it interior or exterior, and commercial or residential. We use various systems and treatments that fit your needs, budget, and circumstances.
Change the Look of Your Lakewood Ranch Pool Deck With Concrete Coatings, Resurfacing, or a Stained Finish!
DecoCrete Services LLC offers premium concrete makeovers to transform the look of your pool deck. So whether you want a deep clean, stain removal, or just an update to your pool deck's color scheme, we've got the right pool deck resurfacing options for you!
Our resurfacing options include stamping, tiling, and texturing to bring your old deck back to life. You can select from a wide variety of colors and textures that will reseal and revitalize your concrete pool deck. Our coatings can even look like marble or granite and be polished to shine. 
We offer textured tile or block overlays that perfectly fit the deck's dimensions. DecoCrete Services LLC also lets you choose from a variety of polishes for that fresh finish. 
Our overlays can replace the old worn out concrete pool deck and transform it into a whole new look at a fraction of the cost.
Breathe new life into your plain old pool deck with our resurfacing services.
Call (941) 413-3078
to get a free consultation.
The Advantages of a Concrete Pool Deck Resurfacing in Lakewood Ranch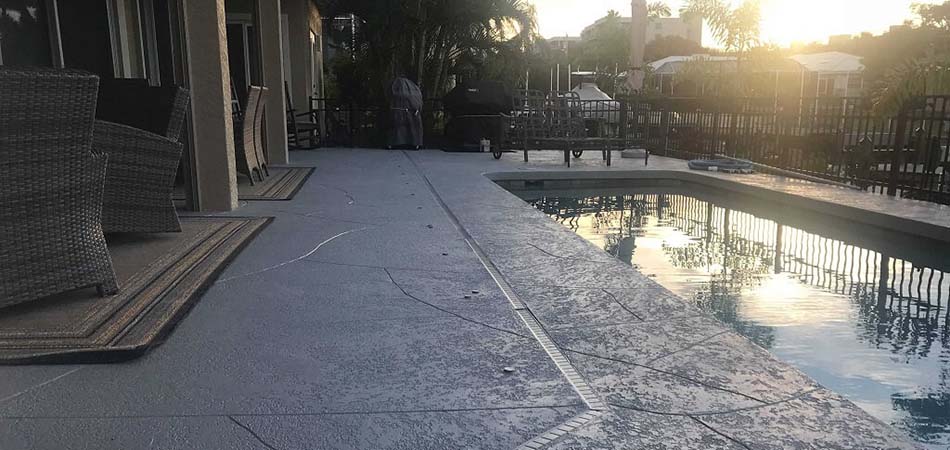 Over time, you will notice some changes in the appearance and color of your pool deck. That's when you know it's a good idea to resurface concrete around the pool, especially if you want to restore its look. Below are some of the advantages of pool deck resurfacing.
There's a good reason why concrete pool deck resurfacing has become a number one trend for many homeowners and commercial businesses in Lakewood Ranch, FL: cost-efficiency. Resurfacing is a much cheaper solution than other pool renovations. It looks just as good or even better and will save you money in the long run.
Concrete pool deck resurfacing offers you flexibility when it comes to design options. When you resurface a pool deck, it can be customized with your desired colors, textures, patterns. You can choose a look that fits your style and budget. 
Resurfacing gives your pool a high-end appearance without costing a fortune. There are many options that enable you to achieve the look of premium materials, like flagstone, slate, or pavers.
Depending on the frequency of use, a pool deck can go through a considerable amount of wear and tear because of water and friction. These factors affect the pool surface and can make it a dangerous slip hazard. Pool deck resurfacing gives the flooring a slip-resistant texture to make it safer and more appealing.
Our concrete overlays cost between $5 and $8 per square foot. The overall cost depends on the size of the pool.
There are many pool deck ideas you can consider based on your preferences. If you want something natural, you can opt for our natural stone overlays.
Whether you need help with swimming pool deck resurfacing or pool deck coatings, DecoCrete Services LLC will be happy to give you the best resurfacing in Lakewood Ranch. Get in touch with us and get a free coating estimate! We're ready to assist you with your inquiries and concerns 24/7.
Thomas Skillman
Sarasota, FL
Devin and the team at DecoCrete Sevices know their business, back their product and do really outstanding work. The technicians are skilled and conscientious. I have dealt with this company twice for porch flooring with the same great results. If I have another similar project I will use them again!
They were on time for the appointment they were very precise explained everything before they started and left me with a beautiful Garage Floor I would recommend them to everybody they were the best price out of nine companies And did a fantastic job